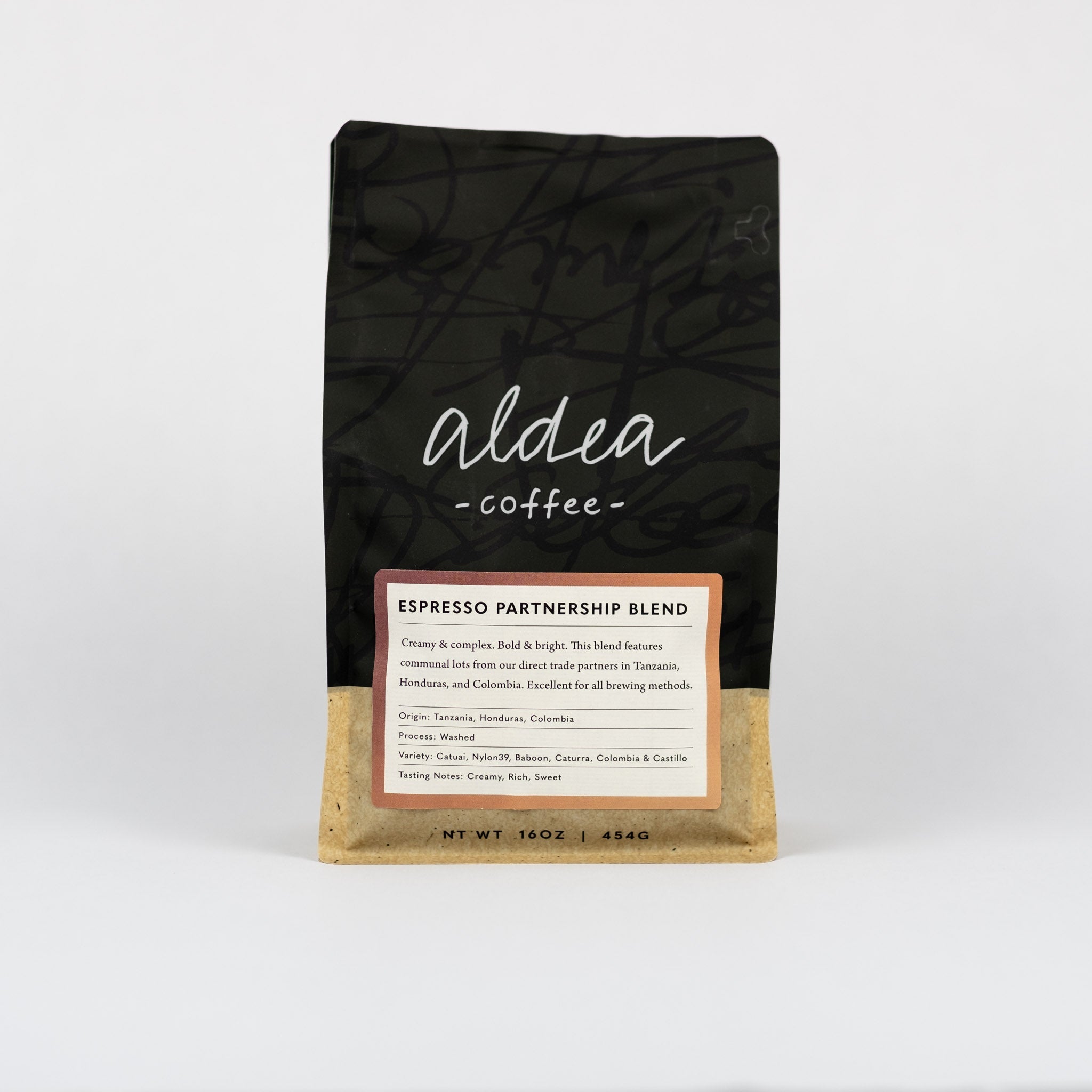 Creamy & complex. Bold & bright. This blend features communal lots from our direct trade partners in Tanzania, Honduras, and Colombia. Excellent for all brewing methods.

Partnership Blend: TZ, Honduras, Colombia
Yellow Catuai, Nylon 39. Baboon, Caturra, Colombia, and Castillo.
Location: Honduras, Colombia, Tanzania.
Elevation: 1300-1900m
Coffee Information

Partnership Blends
A partnership blend with a mix of 30% brazilian natural, 30% single origin Tanzania, 30% single origin Honduran and 10% Honduran natural. Each coffee has been sourced ethically and mindfully.
How to brew
Though we have created this blend specifically to be enjoyed as espresso, it is excellent in all brewing methods. For espresso, you will need to dial-in the grind setting very carefully depending on your espresso machine and grinder. We recommend a 2:1 ratio of water to coffee as a simple rule of thumb, and to aim for an extraction time of 25-35 seconds.
Online orders are packaged to ship on Tuesdays and Fridays. No matter when you place your order, it will ship within 4 days.
Whew, this is a question! Aldea is different for 3 main reasons. 
First, Aldea grew out of a non-profit organization working in Honduras. Through this relationship, we can purchase coffee directly from the farmer and pay our farmers at a minimum, 50% above fair-trade. 
Second, we roast our coffee in small batches of 15 pounds at a time. This allows us to have more control over our profiles, and maintain consistency batch to batch. 
Third, we became a Certified B Corp in 2020. Certified B Corps are leaders in the global movement for an inclusive, equitable, and regenerative economy. This certification holds us accountable to make the best decisions for our employees, the coffee farmers, and the communities we work in. 
Aldea Coffee is a people-and-planet-before-profit, B Corp. By partnering directly with farmers, roasting specialty coffee, and serving you, we strive to bring the highest level of social and environmental engagement to all the communities in which we work.
We are currently roasting full days, Monday through Friday. So, yes! Your coffee should be freshly roasted, and ready to drink upon receiving. Our roastery team is incredibly mindful about ensuring your coffee will be at its best when it arrives to you.