A labor of love, designed for you.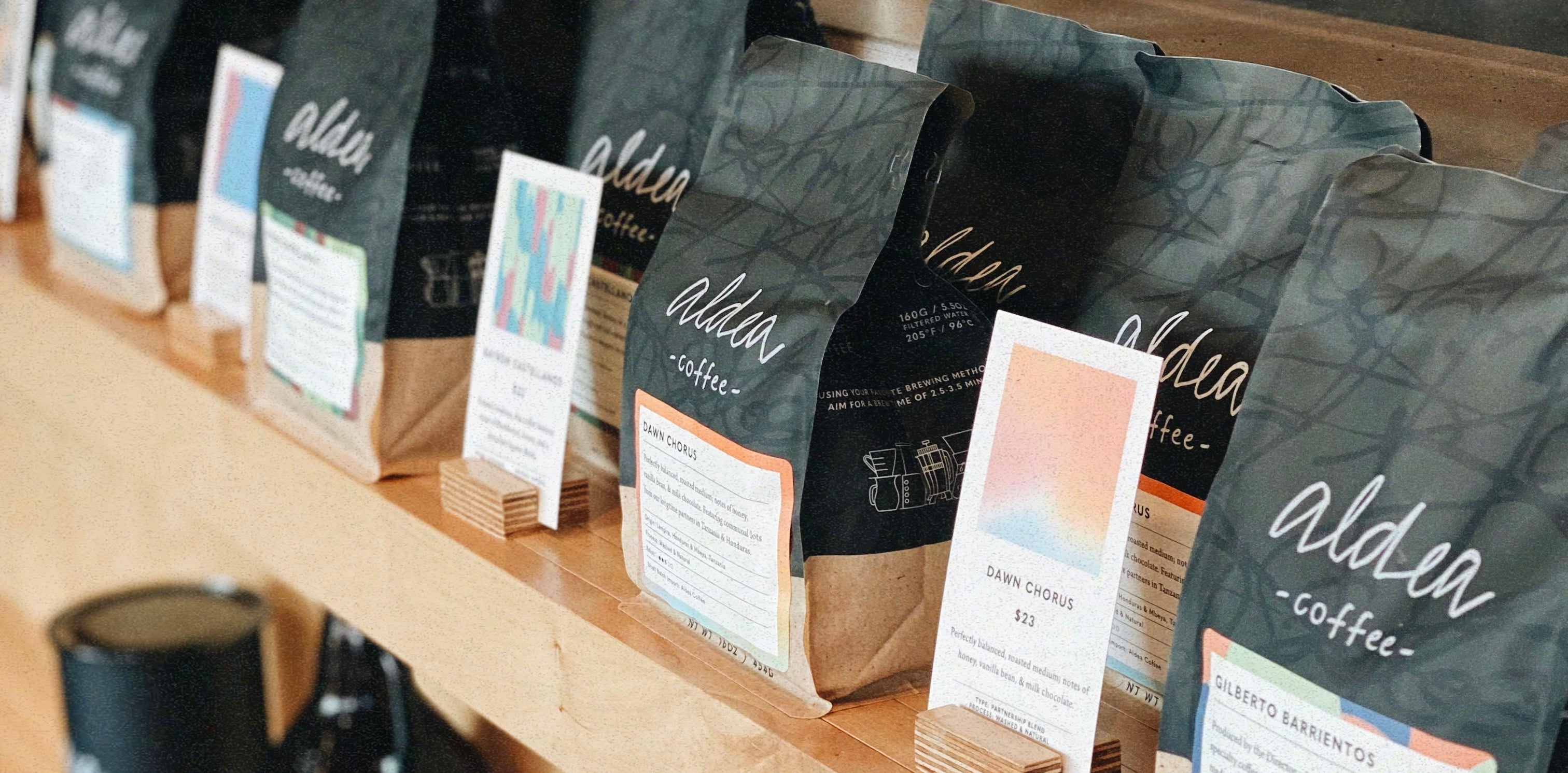 Material of the bag
100% recyclable, and made from up to 85% post-consumer recycled material.
We wanted to improve the sustainability and life cycle options of our coffee bags. We balanced this information with our knowledge of recycling and composting availability in our area and our knowledge about the production of recyclable and compostable materials. 
From Grounded (the manufacturer): 
Certified for food contact, our post-consumer recycled (PCR) coffee pouches have the highest amount of recycled plastic content in the world (up to 85%). Engineered using our RE: MONO laminate technology, these pouches have a considerably lower carbon footprint and are suitable for recycling in either #4 or soft plastic streams.
about the labels
From the designer, Elly Kuyt.
For the labels, I created patterns or gradients for each individual coffee. 
For single farmers, I made patterns based on personal interactions with the coffee farmers, and from the tasting notes of their coffees.
Each farmer's pattern is different, with different associations and representations, depending on how much I have gotten to know them, and how their coffee tastes. 
For the blends, I chose to create gradients. Each farmer, or region represented by different colors, and the symbolism of those colors coming together to blend into something new and beautiful. The vibrancy and tone of the overall gradient represents the darkness or lightness of the roast profile.
inspiration for the patterns
"A great example of how the label patterns were created is Marlon Carcamo's coffee.
My inspiration for his design came from my visit to Honduras in 2021. After visiting Marlon's coffee field, we stopped by his house, and enjoyed fresh juice in these adorable orange glasses shaped like fish tails. And we sat on his porch, where he has these bright yellow pillars, which he designed himself.
The brown represents the smooth nutty notes you find within his coffee. The vertical lines represent the orderly and precise way in which he processes his coffee, Marlon being one of our most detail-oriented farmers."